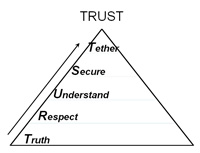 Achieving the confidence level of TRUST with our clients is our goal and is the measure of how we determine our professional success.
We believe that building, maintaining and perpetuating trust among our clients and our community is the key to our long term success. Our goal is to receive multiple referrals from our clients and this can only be achieved if we have earned an extremely high level of trust and satisfaction before, during and after the transaction.
We build trust by focusing our business philosophy on "Care, Communication and Competency". Although most of the real estate business is geared towards "sales" we strive to raise the level of our service to "counselor" & "practitioner". Our referral based business is built by our constant commitment to "service, expertise and integrity".
Our T.R.U.S.T pyramid is built as follows:
Truth – A foundation of truth and honesty
Respect – A respect for our clients unique needs and wants
Understanding – A caring and concern for our client's situation
Security – A safe and secure attitude with our clients
Tethered – Being closely tied to our clients and to their valuable referrals
Our commitment is to become your Trusted Advisor Professional (T.A.P) and we will introduce you to our network of other Trusted Advisors Professionals (T.A.P.'s) who have earned the required level of care, communication and competency that allow us to entrust them with a referral to our clients.
For more on our T.R.U.S.T. philosophy view our recent article "Tap into Trust"