LAKEWAY DOCTOR SHOW
Kenn helps the good Doctor Hoffarth and family move from Lake Tahoe, California to Lake Travis, Texas. See which home they chose! This episode will be aired again on Tuesday, September 3rd at 6:30 PM Central, 7:30 PM Eastern & Pacific.
Click here for HGTV
MILLION DOLLAR SHOW
Watch as Kenn and his family become the buyers on an upcoming episode of House Hunters. This is the first time that House Hunters, the #1 Rated HGTV program, had a Realtor as the Buyer. Watch as the Renner family tour Lake Travis pool homes with incredible views. Try to guess which "Dream Home" they chose.
Watch Kenn and the Coburns on HGTV's House Hunters as they tour North Austin suburbs in search of their next home.
For more information on how we can market your home please CALL or Text message Kenn Renner @ 512-423-5626

HGTV has given me permission to give my friends and family a copy of our House Hunters episode. If you would like a copy of either one of these shows, I consider you a friend. Email me at Kenn@BuyAustin.com or call or text me at 512-423-5626 and I will get you a free copy.
See our new House Hunters news articles!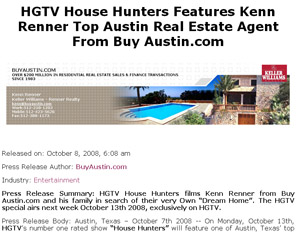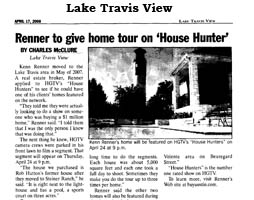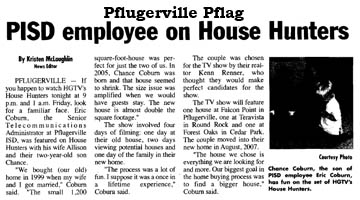 Click the articles for high resolution!